About Japanese knives
In regular Japanese households, a knife is a familiar cooking utensil and each home has at least one, but the knives used by professional chefs hold a special significance. Behind that significance lies the unique history the development of knives has taken.
Japanese swords" first started to be made in Japan in the early Heian period, utilizing swordsmithing techniques brought over to Japan from the Chinese mainland and the Korean Peninsula. The oldest "knife" preserved at the Shoso-in (a storehouse of many national treasures) is shaped like a miniature Japanese sword that a samurai would have carried, which suggests their shared origins.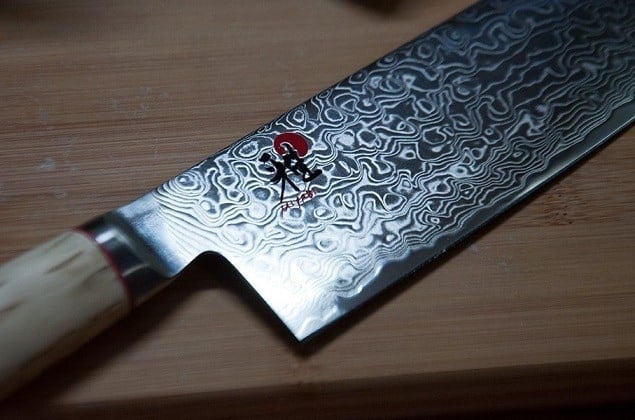 In time, the variety of knives grew. By the beginning of the Edo period, types such as the "Deba" (kitchen knives), "Yanagiba" (sashimi knives) and "Nakiri" (vegetable knives) appeared, and with the introduction of Western meat-eating culture, the "gyuto" (chef's knives) started to be used in the Meiji period. Thereafter, the varieties of knives continued to be segmented for each ingredient and method of preparation, and today the characteristics of "Japanese knives" have achieved worldwide acclaim.
Here, You can find the Top Japanese Knife brands below.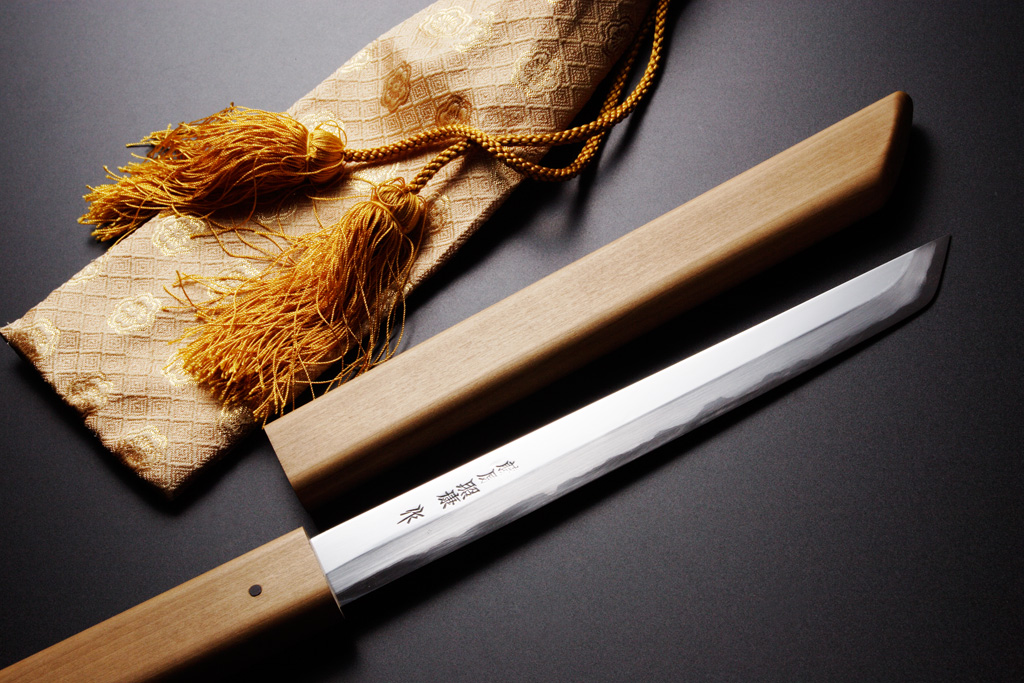 MASAMOTO
As the first generation Minosuke engraved the "正" ("Masa") character on his knives as proof that he had made them himself, the second generation knife craftsman Kichizo Hirano sought to register this character as the trading name when the trademark registration system began in 1884.
Only Masamoto Sohonten has carried on the techniques and approaches to hardening, tempering and polishing created by the first-generation founder Minosuke.
Awarded gold and bronze prizes at The Tokyo Industrial.
Exhibition held in 1907Japanese Knife — Awarded silver prize at Exampla'71Hyper Molybdenum Steel Western-style Knife — No.1 in Usage

Check more organic snack on the best Home&Kitchen online Expo!
Shun Kaiusa
Shun is a time—the exact moment when a fruit is perfectly ripe, a vegetable is at its best, or meat is at its most flavorful. Home cooks and professional chefs alike celebrate shun in their kitchens, awaiting each season's bounty and serving every ingredient in its proper time. The Shun name honors this tradition of seasonal, mindful eating and is a mark of our dedication to making kitchen cutlery that is always at the peak of its perfection, too.
The challenge for Endo and the new brand would be to maintain the extreme quality for which Japanese cutlery is prized, while producing it in quantities that would meet growing demands. For Endo, it was vital to maintain the tradition of handcrafting each knife.
Check more organic snack on the best Home&Kitchen online Expo!
 MIYABI
MIYABI is a ZWILLING Group brand and is synonymous with genuine Japanese knives. MIYABI knives are authentic because MIYABI does not try to be Japanese; it really is Japanese.
MIYABI knives are manufactured in the tradition of the ancient masters, who once produced the finest Japanese swords. They are designed by the Japanese, have a contemporary Japanese design and are produced in ZWILLING's own factories in Japan.
Like Solingen in Germany, Seki is Japan's blade capital and thus the centre of Japanese knife production. ZWILLING J.A. HENCKELS Japan acquired one of the leading Seki-based manufacturers of high-quality knives in 2004. Today this manufacturer combines German engineering with the finest Japanese craftsmanship and artistry. The very best quality of Japanese knives is the result of this collaboration.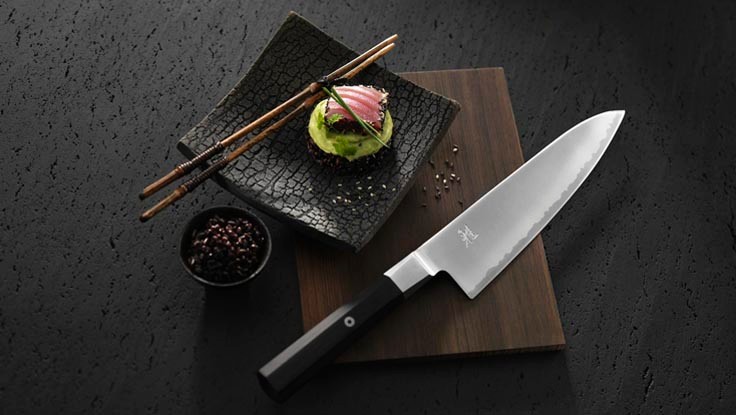 KUMA
KUMA is a family run company with a passion for cooking, cutlery, and craftsmanship. The KUMA company was born out of a desire to create high quality kitchen knives that combine razor-sharp performance with high lightweight maneuverability all packaged in a beautiful aesthetic design. Being inspired by the artistic Japanese steelwork culture and its blade experts, a great focus on profile, unbelievable sharpness, minimalism, and comfort has been a defining factor in our products.
✔ Razor sharp out of the box – Here is your new kitchen knife with cutting edge sharpness and precision. Slice your meat and vegetables as thin as you like.
✔ Versatile and cuts like a dream – We created the perfect multi purpose cooking knife for YOU. Enjoy delicately slicing and chopping vegetables, carving meat, or even cutting through thin bone. A truly versatile experience.
✔ Japanese inspired profile – Your cooking should be a breeze. Combining lightweight materials, a smooth ergonomic handle, and an elegant Japanese inspired profile design, you will love the control and comfort offered by the KUMA Chef's Knife.

Check more organic snack on the best Home&Kitchen online Expo!
TOJIRO
The history of TOJIRO knives started with stainless steel fruit knife that was released in 1955. At that time, it was said that stainless steel blades were not sharp enough compare to carbon steel. Therefore, TOJIRO pursued in earnest "cuttable knives", realizing continuous improvement and evolution. Today, our corporate message is "More than just sharpness".
Both tradition and innovation are being existed in our manufacturing process. Clad steel is the material that we use most in our production. It is forged in the same way of forging a traditional Japanese sword "Katana" from Tamahagane.
Check more organic snack on the best Home&Kitchen online Expo!
DALSTRONG
From our hammered tsuchime finish in our Shogun Series knives, to their custom molded Dalstrong extra-long zipper pull tabs in our knife rolls, they truly care about the little things and go the extra mile to ensure that every painstakingly, handcrafted detail is unique and preserved. Along with high-tech processes such as Cryo-tempering, which improves the steels crystaline structure, making them stronger so that your knives perform exceptionally, longer, Dalstrong creates the best in class tools at unrivaled price points.
Tall blade height gives knuckle clearance to assist with food preparation and chopping activity. Beautiful hand polished satin finish blade. Tapered design for hardness and flexibility. Added chromium for stain resistance. Precisely tempered for added durability. Polished spine to facilitate a comfortable pinch grip. Full tang for incredible robustness & quality.
Check more organic snack on the best Home&Kitchen online Expo!
Korin
Nestled in the heart of lower Manhattan, Korin Japanese Trading offers the finest Japanese knives, kitchen products and tableware to suit every culinary tradition. We are proud to cater to the rich cultural diversity that is New York City, a beautiful microcosm of the world that we are happy to call home.
Drawing from a tradition of Japanese artistry and meticulous attention to detail, the collections at Korin showcase the best of both cutting edge design and time-tested favorites. They are dedicated to bringing the highest quality Japanese design to your table, so you can experience the unparalleled quality of Japanese craftsmanship in your home or restaurant.
Check more organic snack on the best Home&Kitchen online Expo!
YOSHIHIRO
Yoshihiro Cutlery is a company specializing in handcrafted premium Japanese kitchen knives. With a history of over 100 years, the Yoshihiro knife brand has been a leading provider of premium kitchen cutlery in Japan. 
The performance is trusted and used by countless professional chefs worldwide. Our company has inherited the Japanese tradition of beauty and excellence. While knife making is one of the most difficult skills to perfect, it is where Yoshihiro excels.
Care & Sharpening:

 Traditional Japanese knife making values a sharp edge, which requires attention and care. Sharpening and honing should be done with only water whetstones. Hand wash and dry only, and do so immediately if working with acidic ingredients. Do not use on objects such as bones, nutshells, and frozen foods.
Video:
MAC
Boldly build the leading healthy Mexican-American food brand, Embody a juntos es mejor culture: value humility, foster diversity, love people always. Operate with a family first, family second, business third attitude. Positively impact the lives of underserved communities through education, entrepreneurship, and wellness.